宗旨特色
Objectives and Features
一、 務實開放與多元深度的教學制度。
藉由美術創作、產業設計兩個學群課程,啟發學生創意與想像,從而發揮學生的創造力。從基本技巧與觀念的基礎課程、以及專業能力培養為導向的專業課程,到以統合能力暨獨立創作為目標的統整課程,將藝術人才培育過程系統化、一貫化。強調深度及多元選擇性,鼓勵學生依興趣及志向選課,專業工作室課程打破同年級開課的限制,使上下年級同學有縱向經驗傳承及交流的機會,充分發揮教學和學習的功能。
  培育以文創產業需求為導向的高水準專業人才,從基本技巧、創作觀念、洞察產業趨勢、藝術市場的迭變。本系開設美術史、東西方繪畫媒材、繪本、插畫、漫畫、電腦動畫、數位媒體藝術、當代藝術、產品設計、工藝設計等造型等課程,培育兼具多元及專業能力的美術人才。
1.Teaching System with pragmatic openness and multiple depths.
 We inspire students' creativity and imagination through two course groups: art creation and industrial design, so as to exert students' creativity. From the basic courses of basic skills and concepts, and the professional courses oriented to the cultivation of professional abilities, to the integrated courses aiming at the integration of abilities and independent creation, our cultivation process of artistic talents is systematic and consistent. We emphasize depth and multiple selectivity, encourage students to choose courses according to their interests and ambition. Our professional studio courses break the restriction on opening to the same grade only, so that students in the upper and lower grades have the opportunity to inherit and exchange experiences vertically. This design gives full play to teaching and learning functions.
 We cultivate high-level professional talents oriented to the needs of the cultural and creative industries, from basic skills, creative concepts, insights into industry trends, to changes in the art market. Our department offers courses in art history, Eastern and Western painting media, picture books, illustrations, comics, computer animations, digital media art, contemporary art, product design, craft design and other modeling, to cultivate art talents with diverse and professional capabilities.
二、 啟發思考與想像以創意創新培育創業人才。
  藝術和人文奠定了美感素養並培養思考力,把感性的藝術創作與理性的科技結合起來,將理性的左腦與感性的右腦同時發揮綜效,激發學生的創意,藉由思考習慣的改善,來強化思考能力。知識經濟創新的世代鼓勵學生發揮跨領域的創意,以創意的加值訓練,著重在如何賦予原始事物新的意義,透過功能上、外觀上、實用性、與美學品味的加值,著重設計哲學的思考使商品能更加靈活運用,使得「知識性的加值」轉變成為「創意性知識」,晉身具有獨特性、有價值的「智慧財產」,把創意變成商品、服務。
  當創意轉化為專利、產權化之後,輔導專利商品化,創造新的事業機會或者是新的營運模式,以培育創業人才。分別從技術創新、產品創新、流程創新、組織結構的創新及策略與營運模式的創新。藝術與設計的整合驅動知識經濟的創新,價值事業化、企業化,甚至變成一個產業。
2.Inspiring thinking and imagination to cultivate entrepreneurial talents with creative innovation.
 Art and humanities lay the foundation for aesthetic literacy and cultivate thinking ability, combine sensual art creation with rational technology, combine the rational left brain with the sensual right brain to play a synergistic effect, stimulate students' creativity, and improve the thinking habits to strengthen thinking skills. In the generation of knowledge economy and innovation, students are encouraged to give play to cross-disciplinary creativity, with value-added training in creativity, focusing on how to give new meaning to original things through function, appearance, practicability, and aesthetic taste. The thinking focusing on the design philosophy makes the products more flexible, transforms the "knowledge value-added" into "creative knowledge" that advances into a unique and valuable "smart property", and turns creativity into goods and services.
 After creativity is transformed into patents and property rights, we assist in the commercialization of patents and creating new business opportunities or new business models to cultivate entrepreneurial talents. From technological innovation, product innovation, process innovation, organizational structure innovation and strategy and business model innovation, the integration of art and design drives the innovation of the knowledge economy, the value of business, enterprise development, which even become an industry.
三、 深耕東部文化發展,善用數位媒體,開拓美術產業市場。
  臺東大學為臺東地區唯一一所大學,本系有義務與責任發展在地化的地區性美術產業,東部地區擁有獨特的區域性文化與多元的原住民藝術,本系將運用當地豐沛的文化資源,發展具深度與廣度的地區性美學與產業。善用數位媒體,開拓美術產業市場以數位藝術、電腦動畫與數位媒體等專業課程,培育具現代媒體專業的動畫及數位媒體創作人才。美術產學中心以實務操作引領學生進入獨立創作與設計的氛圍,開拓藝術觀念與面對業界需求,增強實戰經驗。
3. Dedicating to the cultural development in the eastern Taiwan, making good use of digital media, and developing the art industry market.
 National Taitung University is the only university in Taitung area. Our department has the obligation and responsibility to develop localized regional art industry. Eastern Taiwan has a unique regional culture and diverse indigenous arts. Our department will use the abundant local cultural resources to develop regional aesthetics and industries with depth and breadth. Our department makes good use of digital media, develops the art industry market with professional courses such as digital art, computer animations and digital media, and cultivates animation and digital media creation talents with modern media expertise. Art Industry-Academia Collaboration Center leads students into the atmosphere of independent creation and design through practical operations, expands artistic concepts, faces the needs of the industry, and enhances practical experiences.
四、培育具美學品味與產業設計的理論研究及創作兼備人才。
  透過主觀理解的質化能力培養,去判斷無法以數字量化的現象,讓事物表現出最佳樣貌的能力。美學品味是每個人與生俱來的能力,透過教學培養、運用與鍛鍊,提升美學素養。因應台灣「美術與產業轉型」經由設計「提高價值(value up)」,運用多元豐富族群的文化資產,透過文化加值設計產業,提升產品的「附加價值(value added)」,深入產業設計理論。「東大藝廊」、「臨風藝廊」、「美術產學中心」等場域,透過藝術文化創新實驗、展演、跨域合作及共創、與國際藝術家及設計師交流,打造觀念創新,推動當代藝術文化實驗,提供多樣的文化體驗與探索文化未來性的平台。
4. Cultivating talents who have both aesthetic taste and expertise in industrial design theory research and creation.
 The cultivation of the qualitative ability through subjective understanding enables individuals to judge the phenomenon that cannot be quantified by numbers and make things show their best appearance. Aesthetic taste is everyone's innate ability, and aesthetic literacy can be improved through teaching and training, application, and practice.
 In response to Taiwan's "Arts and Industrial Transformation", we are obligated to achieve the design of "value up" and the use of cultural assets of diverse and abundant ethnic groups. It is necessary to enhance the "value added" of products and deepen the industrial design theories through the cultural value-added design industry. "National Taitung University Art Gallery", "Wind-facing Art Gallery" and other fields use art and cultural innovation experiments, performances, cross-domain cooperation and co-creation to communicate with international artists and designers, create conceptual innovation, and promote contemporary art culture experiments to provide a platform for diverse cultural experiences and exploring the future of culture.
系所專業發展重點領域
本系自成立以來即以「培育美術產業專業人才」的總體發展目標來自我期許,關照藝術與設計領域的發展現況及趨勢,基於本系的發展定位,現階段設定以下二個重點並配合課程之學程規劃及產學合作,集中資源發展系所特色及共同的努力方向。
1. 美術創作專業模組課程
2. 產業設計專業模組課程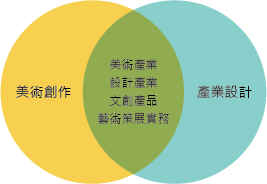 Key areas of professional development of the department
Since the establishment of our department, the overall development goal of "cultivating professionals in the art industry" has been the long-term self-expectation. Our department focuses on the current development status and trends of the arts and design fields. Based on the development positioning of our department, the following two priorities are set at this stage. Our department cooperates with the course program planning and industry-university cooperation to concentrate resources to develop the department's characteristics and directions of common efforts.
(1)Arts creative module course
(2)Industrial design professional module course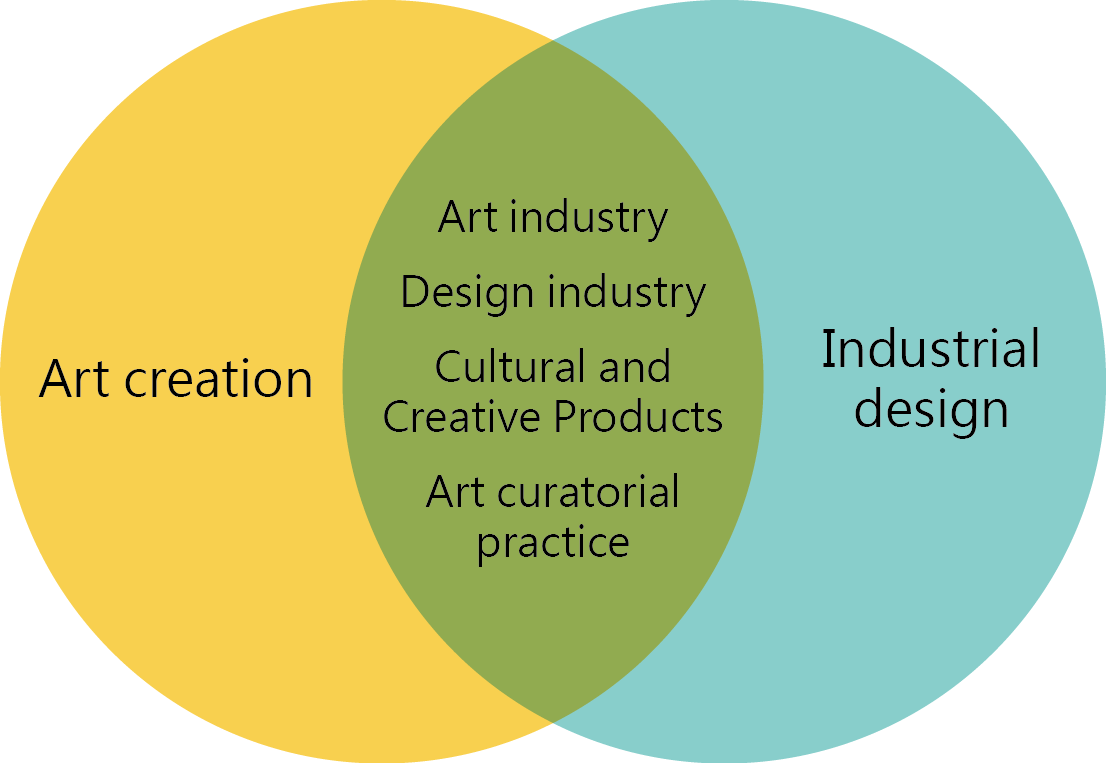 未來發展
強調產學並進,技術與論述並重,培育跨界整合藝術專業人才
  本系旨在培育優秀的藝術創作與產業設計專業人才,在文創產業需求為導向的教學理念中,讓學生能夠具備良好的創新創意、美感品味、專業技術與多元跨界知識,更具備正確的職場倫理。從基礎技巧、創作觀念、洞察產業趨勢、藝術市場迭變,至圖像及數位整合。
  本系開設各類繪畫、繪本、插畫、陶瓷、造型、電腦動畫、當代藝術、文創產品、數位媒體、識別系統、原住民藝術等多樣課程,培育兼具當代、多元及專業能力的藝術人才。在藝術創作能量上,保有學院體系的高端知識技能與當代創作能力,更鼓勵學生善用數位媒體,並開拓美術產業市場。以數位藝術、數位媒體與電腦動畫等專業課程,培育具現代專業的動畫及數位媒體創作人才。本系同時透過產學合作的機會,培養學生學理與實務兼備的職場知能。
  在學院基礎與當代思維理論下,整合藝術美學與多媒體科技的跨域思考,善用電腦科技,使作品、產品等藝術創作意普及化及國際化。畢業後依個人興趣與未來職涯發展,報考藝術創作、設計相關產業、動畫媒體、跨領域、視覺文化、藝術行政或教育等國內外研究所進修,或進入美術產業、設計產業、藝術教育、插畫繪本產業等相關職場發展。
Future development
Emphasizing the advancement of industry and academia, paying equal attention to technology and discussion, and cultivating cross-sector integrated art professionals
Our department offers a variety of courses in painting, picture books, illustrations, ceramics, modeling, computer animations, contemporary art, cultural and creative products, digital media, identification systems, aboriginal art, etc., to cultivate artistic talents with contemporary, diverse and professional abilities. In terms of art creation energy, our department maintains the high-end knowledge skills and contemporary creation capabilities of the college system, encourages students to make good use of digital media, and develops the art industry market. Our department uses digital arts, digital media, computer animations and other professional courses to cultivate animation and digital media creation talents with modern expertise. Our department also cultivates students' workplace knowledge with both academic and practical opportunities through the opportunity of industry-university cooperation.
Based on the college foundation and contemporary thinking theories, our department helps students integrate cross-domain thinking of art aesthetics and multimedia technology, make good use of computer technology, and popularize and internationalize the artistic creativity of works and products. After graduation, students may apply for domestic or foreign graduate institutes of artistic creation, design-related industries, animation media, cross-disciplinary, visual culture, art administration or education, etc. for advanced studies according to their personal interests and future career development, or enter the art industry, design industry, art education, illustrated book industry and other related workplace.